Welcome REU student, Holly Nichols (from GA Tech), and new undergraduate student researcher, Julie Coloumb!

​

Dr. Engel worked on a publication for Tennessee landowners -- it can be found here: Engel, A.S., Niemiller, M.L. (2018) Landowner's guide to biological resources and biodiversity in Tennessee caves. University of Tennessee Institute of Agriculture Extension publication W453-D.

https://extension.tennessee.edu/publications/Documents/W453-D.pdf

Our Lab Manager, Audrey Paterson, received the 2018 Excellence in Laboratory Safety award from the Office ​of Research and Engagement Congrats, Audrey! Thanks for keeping us safe!



New group papers - 



Engel et al. (2017) Salt marsh bacterial communities before and after the Deepwater Horizon oil spill. Applied and Environmental Microbiology. 83:e00784-17; doi: 10.1128/AEM.00784-17​

Dorigo et al. (2017) Cave hygropetric beetles and their feeding behavior, a comparative study of Cansiliella servardeii and Hadesia asamo (Coleoptera: Leiodidae, Chelevinae, Leptodirini). Acta Cartsologica 46 (2-3) DOI: http://dx.doi.org/10.3986/ac.v46i2-3.4936.
 
Niemiller et al. (2017) Rediscovery and conservation status of six  short-range endemic Pseudanophthalmus cave beetles (Carabidae: Trechini). Insect Conservation and Biodiversity. 10:495-501.  doi:10.11/icad.12263.
Graduate student, Chantelle Fortier, presented her research as a poster at the Geological Society of Aerica meeting in Seattle, WA, October 2017.



Congratulations Dr. Terri Brown and Brandon Bagley for your recent graduations from UT in May.



Congratulations, Brandon Bagley, for successfully defending your MS thesis!



Welcome Yuan Yun to the lab, joining us for 1 year on an exchange.
​

New papers out -

Yun et al. (2016) The relationship between pH and bacterial communities in a single karst ecosystem and its implications for soil acidification. Frontiers in Microbiology - Extreme Microbiology.  https://doi.org/10.3389/fmicb.2016.01955

Keenan and Engel (2017) Early diagenesis and recrystallization of bone. Geochimica et Cosmochimica Acta. 196: 209-223. DOI:10.1016/j.gca.2016.09.033 .
​

Congratulations, Terri Brown, for successfully defending your Ph.D. dissertation!
​

Undergraduate student, Hunter Johnson, presented his independent research as a poster at the Geological Society of America meeting in Denver, Co., September 2016.


Undergraduate student, Abby Harmon, received the 2016-2017 the Cave Conservancy Foundation's Undergraduate Fellowship Award in Karst Studies! Congratulations, Abby! Her project is "Evaluating the impact of minor anthropogenic activities in a seemingly pristine karst watershed, Carter Caves State Resort Park, Kentucky."
​

Dr. Engel, Audrey Paterson, and undergraduates taking GEOL 490 (Field Studies in Coastal Biomes) travelled to San Salvador, The Bahamas, this past month to conduct research for the lucinid chemosymbiosis project. They were joined by collaborator Dr. Laurie Anderson and her students from the South Dakota School of Mines and Technology. 


Welcome Kenneth Boling and Chantellle Fortier to the lab group this summer! Kenneth is starting his PhD and Chantelle is a MS student.


Hutchins et al. (2016) Chemolithoautotrophy supports macroinvertebrate food webs and affects diversity and stability in groundwater communities. Ecology, DOI: 10.1890/15-1129.1
Plenge et al. (2016) Thermophilic archaeal diversity and methanogenesis from El Tatio Geyser Field, Chile. Geomicrobiology Journal, DOI: 10.1080/01490451.2016.1168496
Welcome Dr. Xiaoben Jiang, new postdoctoral researcher in the Engel lab! 
Welcome Dr. Qiufang He, a visiting professor from the School of Geographical Sciences, Southwest University, Chongqing, China!
Feb 2016 - Annette, Audrey, and Brandon attended the Gulf of Mexico Oil Spill and Ecosystem Science conference in Tampa, Florida. Also joining them was Dr. Xiaoben Jiang, a new postdoctoral researcher who will join the lab in March. 
Welcome Sara Santarelli, new MS student in the Engel lab!
Kathleen, Walt, and Aaron graduated December 10, 2015.
October 30, 2015 - Congratulations, Kathleen, for successfully defending your dissertation, "Microbial diversity and function within an epigenic cave system and implications for other limestone cave systems"
 

October 26, 2015 - Congratulations, Walt, for successfully defending your thesis, "Environmental Controls on the Diversity and Distribution of Endosymbionts Associated with Phacoides pectinatus (Bivalvia: Lucinidae) from Shallow Mangrove and Seagrass Sediments, St. Lucie County, Florida."
 

October 23, 2015 - Congratulations, Aaron, for successfully defending your thesis, "Rare occurrences of free-living bacteria belonging to Sedimenticolafrom subtidal seagrass beds associated with the lucinid clam,Stewartiafloridana"

  
October 2015 - Annette was named Fellow of the Explorers Club. 
http://tntoday.utk.edu/2015/10/22/professor-named-society-man-moon/
 
October 2015 - Congratulations Kathleen! She received best student oral presentation award (tied with another woman) at the International Society on Environmental Biogeochemistry in Piran, Slovenia, for "Evidence for functional niches and dominant carbon utilization pathways in an epigenic cave system prone to nutrient pulses!
 
Welcome Paxton and Hannah to the lab group!
 
August 2015 - Congrats, Sarah, for getting another dissertation paper published, " Evaluating the consequences of diagenesis and fossilization on bioapatite lattice structure and composition ," in Chemical Geology! 
 
July 2015 - Congrats, Kathleen, for getting your first dissertation paper

p

ublished!

    http://journal.frontiersin.org/article/10.3389/fmicb.2015.00729/abstract
 
July 2015 - Welcome, Brandon, to the lab group! Also, welcome Abby to the group, from earlier this year!
 
July 2015 - Annette, Audrey, Caleb, and Kathleen attend the National Speleological Society meeting in Waynesville, Missouri; Kathleen and Annette present their work in the biology session
 
June 2015 - Annette attend the International Karstological School and International Union of Speleology 50th anniversay celebration in Postojna, Slovenia (and participates in several caving expeditions in the area)
 
May 2015 - Annette visits caves in Tennessee as part of the SERA Cave Carnival, including Zarathustra's Cave (on her bucket list, and one that she will deinitely go back to!)
 
May  2015 - Audrey and Annette go to Louisiana to sample marshes as part of the Coastal Waters Consortium project
 
April 2015 - Annette finished editing a new book, Microbial Life of Cave Systems , which will be released in October 2015; Audrey 1st-authored a chapter with Annette, and Annette authored another chapter
 
April 2015 - Annette and Audrey go to The Bahamas for field work on the Dimensions project
 
Feb & March 2015 - Job postings for postdoctoral research associate and undergraduate student workers!
 
March 2015 - Annette received the Distinguished Service Award from the Karst Waters Institute at the Annual Awards Banquet, for being the Vice President of Communications for 8 years, webmaster, editor of The Conduit, and also a former Board of Director for the organization since 2005
 
March 2015 - Kathleen Brannen was named UT Quest  Scholar of the Week 
 
March 2015 -  T. Walt Doty presents his research at the 2nd Annual Southeastern Biogeochemistry Symposium in Atlanta, GA 
 
Feb 2015 - Congratulations, Dalia Harmon (former undergraduate in the group) for landing a job with Brown & Caldwell in Nashville!
 
Jan 2015 - Welcome back, Caleb Ward (former undergrad in the lab group), now as our new Research Associate III staff member
 
Nov 2014 - Aaron and Annette attend the International Society for Environmental Biogeochemistry short course,   

"Interfacial Processes in Biogeochemistry," in Cancun, Mexico. Aaron presented his research and Annette gave a course lecture on X-ray Absorption Spectroscopy applications for arsenic and sulfur
 

Oct 2014 - Annette serves as a S

hort Course Instructor at the UNESCO International Research Center on Karst (IRCK), International Training Course specializing on Karst Microbiology, Guilin, China

  
 
Oct 2014 - Terri Brown and Kathleen Brannen present at the International Symposium for Subsurface Microbiology meeting in CA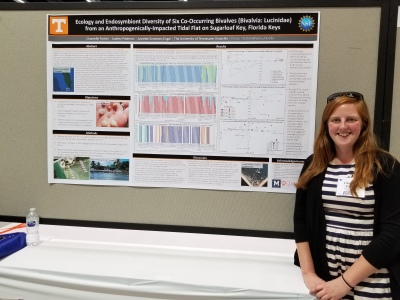 C. Fortier presenting her poster at the Geological Society of America meeting, Seattle, WA, October 2017.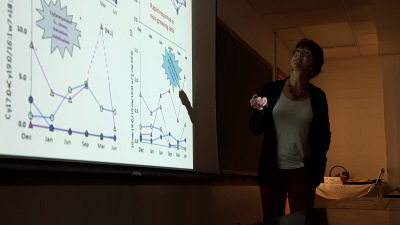 T. Brown during her successful defense, Oct. 2016.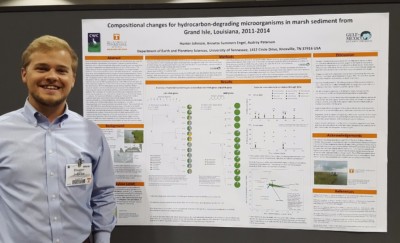 H. Johnson presenting poster at Geological Society of America meeting, Denver, CO, Sept 2016.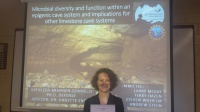 K. Brannen-Donnelly after successful defense, Oct. 2015.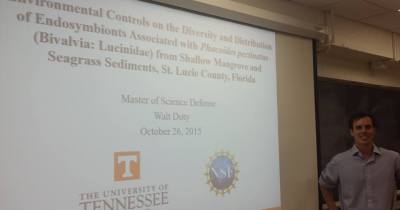 Walt Doty after successful defense, Oct. 2015.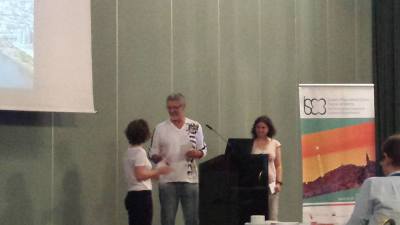 Kathleen accepting her award at ISEB22 in Piran, Slovenia.
Walt showing off his poster at the SBS 2015.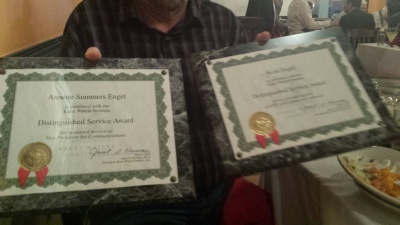 Annette's Distinguished Service award plaque from the Karst Waters Institute, 2015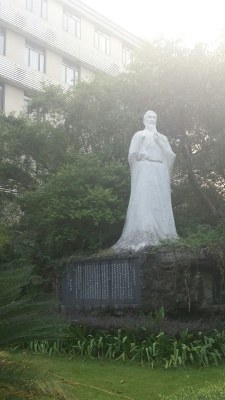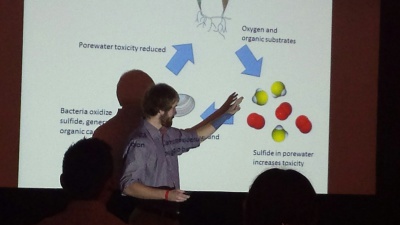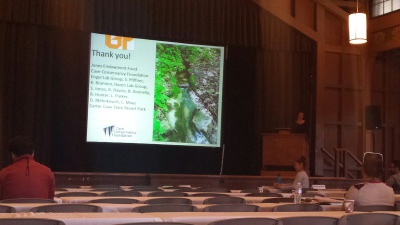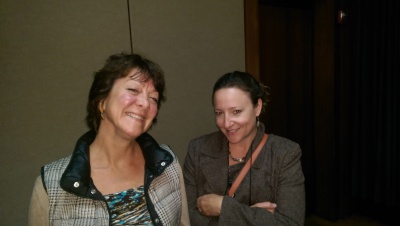 Aaron presenting his research in Cancun
at the ISEB's Short Course, 2014
Terri talking at the 2014 ISSM, California
Terri (left) and Annette at 2014 ISSM